---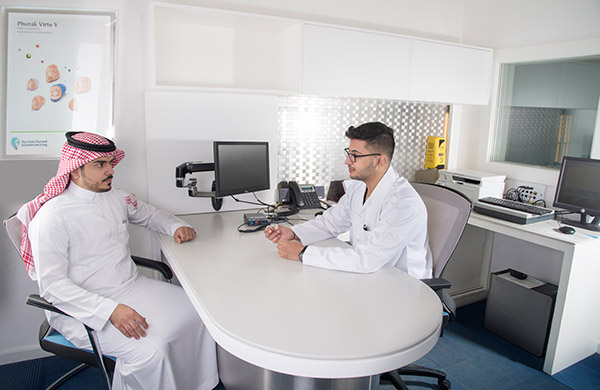 Our Services
Al Madina Hearing is a pioneering Saudi company in the field of hearing healthcare. We aim to help you manage your hearing needs as optimally and pleasantly as possible. We begin by raising your awareness of how to maintain the health and safety of your hearing and end with how to use your hearing solution most effectively. Our goal is to earn your satisfaction and help you enjoy healthy hearing.
Our company is equipped with a team of qualified technicians and specialists trained by elite doctors, hearing specialists, medical device and electronics engineers and international patient care consultants. These professionals are available in our branches all over the Kingdom and are ready to listen carefully and answer all your questions as well as help you with anything you need.
Al Madina Hearing is an exclusive agent of the Swiss company Phonak, which is considered a leading international company in the hearing healthcare market.
Clinical Services
Al Madina Hearing provides many technical hearing health services with high quality standards to help you overcome your hearing loss effectively. We offer many specialised hearing examinations and program hearing aids, digital hearing aids and their various wireless accessories. We also measure hearing aid efficiency and offer training for using hearing solutions.
Choose and Design the Appropriate Hearing Solutions
Our specialised team takes steps to help you reach the best hearing solution that enables you to live confidently and enjoy a normal social life. These actions include
Registering your personal data, contact information, and medical history
Determining your age group
Identifying your lifestyle and personal needs
Determining the type and degree of your hearing loss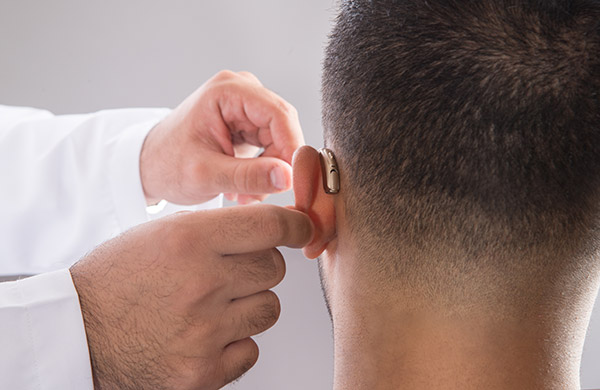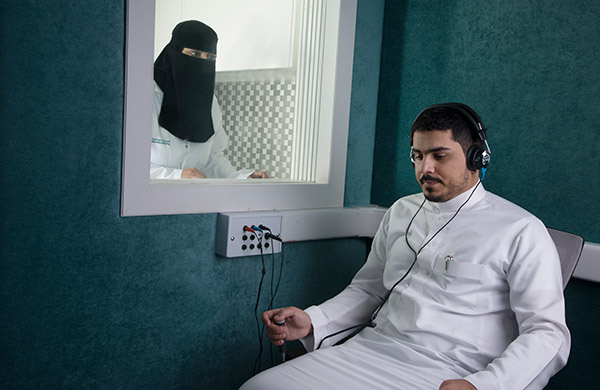 Hearing Tests
Tests are conducted using the latest technological methods and devices under the supervision of qualified professionals. These tests include the following:
Tympanometry
Acoustic Reflex Testing
Oto-Acoustic Emissions Testing
Auditory Brainstem Response Testing
Auditory Processing Testing
Testing the cortex's ability to process speech
Cortical Evoked Response Audiometry Testing
Programming Hearing Aids, Digital Hearing Aids and Various Wireless Accessories
Because we care about you and aim to provide you with full service, our specialised team will help you adjust your hearing aid settings to meet your needs.
Measuring the Efficiency of Medical Hearing Aids
Because our main objective is to recover your hearing health so you can enjoy a normal social life, our specialists will ensure that your hearing aid's settings and features are configured and calibrated so you can reap its full benefits.
Training to Use Hearing Solutions
One of the most important services we offer our patients is explaining the steps of operating their hearing solutions and how to properly maintain them. To download user manual click here.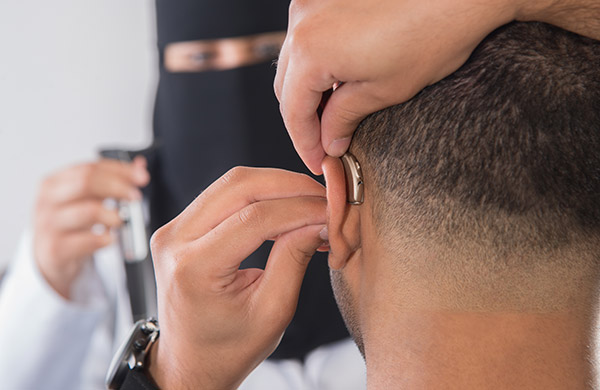 Medical Guidance
We pay close attention to help patients and their families adapt to their hearing problems and make the most of the hearing solutions they use, thus contributing to healthy hearing.
Instructions for New Hearing Aid Users: The aim of these instructions is to speed up the process of rehabilitating the nervous system and the brain to receive the loud voices and treatment with high accuracy through the hearing aids. Then the user will grow accustomed to them, begin to enjoy the voices and participate actively in social and practical dialogues. In order to make full use of advanced hearing solutions and gain a unique and integrated listening experience that is close to normal hearing, please follow the necessary steps to achieve the desired results at the following link